It is exactly noon by the sun, and the unique line of light appears for five minutes to tell you so.
Please visit our new website at http://www.sundials.info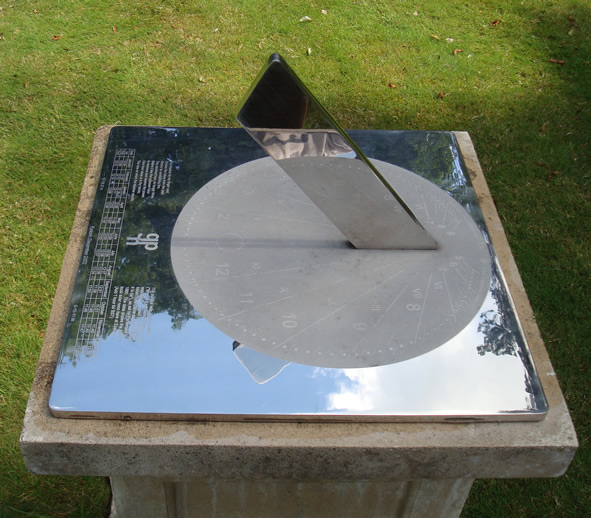 An interesting dial which gives excellent reflections in the mirror-finished stainless steel, and, with the contrasting matt circle on which the hour lines are shown, gives the appearance of "floating on air"
There are now five models of our Spot-On stainless steel sundials, measuring 55, 42, 30, 24 and 15 cm. square. The 42, 30 and 24 cm. models are individually designed for their specific location. The gnomon angle is identical to the angle of the latitude at the intended location; the engraving in the lower part of the dialplate is to the customer\'s specific requirements. (We can suggest alternatives for consideration).
Please also see our new page of stainless steel sundials in their settings which shows pictures of Spot-On stainless steel sundials in a wide variety of settings all over the world see map
If you would like to talk about your own individual requirements, please ring the designer, Piers Nicholson, on 07 909 747 335 or Email him at
info@stainless-sundials.com
. He will be happy to help you without any obligation.
For the range of brass Spot-On Sundials also designed by Piers Nicholson, please visit their website www.spot-on-sundials.co.uk or call 0208 166 5431 (+44 208 166 5431)