15 cm Horizontal Stainless Spot-On Sundial
We regret that this item is no longer in stock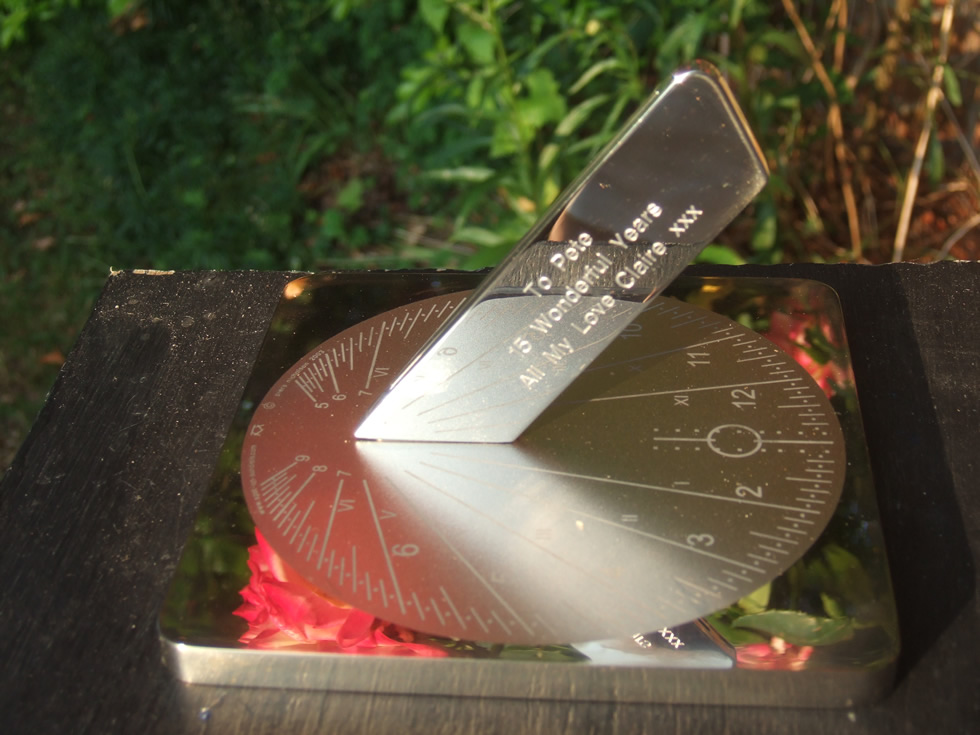 The 15 cm. horizontal Stainless Spot-on Sundial is suitable for the small gardens, conservatories, balconnies and windowsills. It makes an eye-catching feature in its chosen space, and its robust construction in 10 mm. stainless steel ensures that it will stay as good as new for many years.

For customers in countries other than the UK, please contact the designer
Piers Nicholson
to place an order.

15 cm. sundials are designed for the latitude of London (51.5 deg. N) but will work perfectly satisfacotily for a few degrees either side of that lititude. Delivery is normally from stock. Engraving can be arranged on the side of the gnomon, and costs £60 extra. The price of the sundial is £150 (approx 185 Euros, $200 US dollars exchange rates current in July 2016). UK courier delivery is £10; rates for other destinations can be supplied on request. Payment can be made by Intenet transfer or by debit or credit cars through Paypal.

Technical data (metric, with approx. eqivalents in inches): The sundial baseplate measures 15 x 15 cm (6 x 6 ins) and the gnomon height is around 8 cm (3.2 ins) depending on latitude. The matt circle is is 14cm. (7.9 ins) in diameter. On the underside, he pitch circle diameter of the blind and threaded M6 holes is 16 cm (6.3 ins) . The weight of the sundial is 1.75 kg (3.7 lb.)
The hour lines are labelled in Roman numerals for winter time, and Arabic numerals for summer time. Ten-minute intervals are indicated by short lines, and the five minute intervals by spots, so the dial can be read to within a minute or two. Instructions of how to set up the sundial to point to true North, so that it tells sun time correctly, are given on our setup page. There is a wealth of other information about sundials on www.sundials.co.uk, another website by the designer of the Spot-On Sundial, Piers Nicholson

If you have any questions or need more information, please contact Piers Nicholson by Email at info@stainless-sundials.com or by phone on 07 909 747 335 (0044 7909 747 335 from abroad)

© Copyright 2019 Stainless Steel Sundials by Spot-On Sundials
- tel: 07 909 747 335 - email: info@stainless-sundials.com
Spot-On Sundials, 9 Lynwood Avenue, Epsom, KT17 4LQ Surrey, England
Tel: (+44) 1 372 725 742, Mobile: 07 909 747 335 (+44 7 909 747 335 from outside the UK)