The Skywheel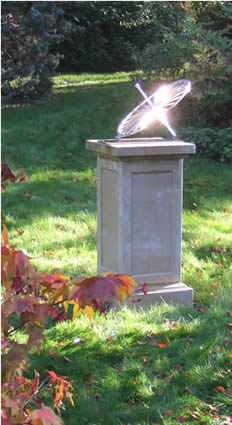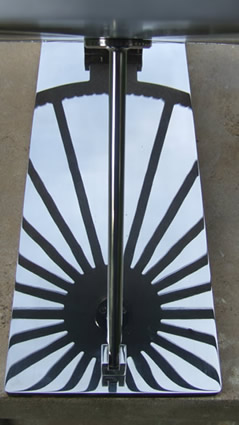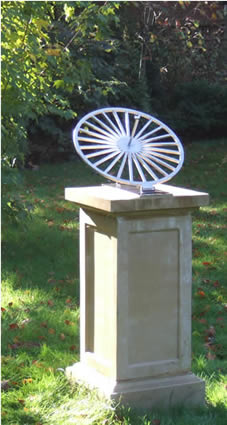 The Skywheel is an innovative sundial in the form of a wheel with 24 spokes, one for each hour of the day. And, precisely on each hour, the shadow of the central rod falls exactly along one of the spokes.

Each Skywheel is individually made for its exact location. There is ample space for extensive personal engraving, including images or logos if required, on the mirror-polished baseplate. Delivery of the Skywheel is normally around 6 weeks from the time the engraving is finalised.

These pictures illustrate the standard 48 cm. skywheel which is supplied with a 42 cm. square mirror-polished baseplate which can be engraved to your specific requirements.

Telling the time

Please note that these pictures show the first production model before the hour markers are engraved on the surface of the wheel at the point where the spokes meet the circumference. We will post pictures with these hour markers shortly




In winter, the sun shines on the underside of the wheel, but it is still very easy to read the time. When the shadow of the gnomon is exactly along one of the spokes, it is exactly on the hour (see left hand picture below)




Here, the shadow is nearly exactly between the nicks which means it is 15 minutes past he hour.

How to order the Skywheel

The standard 48 cm. Skywheel is priced at £2900 including the standard baseplate, and UK mainland delivery. The standard baseplate is 42 x 42 cm. but larger baseplates can be supplied if required. The baseplate can be specially engraved if required with text, logo or pictures at extra cost. For ordering information, please click here.

More Images

Click here for more images of the Skywheel.
';